Your easy way to learn about the rules of Islamic Fiqh
Register in the Islamic jurisprudence platform to be able to pass the levels after a wonderful educational experience

Collect your points and get a number of medals and a certificate
explore the book
Level 1-The Pillars of Islam

Level 2- Islamic Law (Fiqh)

Level 3- Purification

Level 4- Prayer

Level 5- Fasting

Level 6- Zakat
Level 7- The Pilgrimage

Level 8- Jihad

Level 9- Commercial Transactions

Level 10- Marriage and Divorce

Level 11- Wills and inheritance

Level 12- Offences
recommended books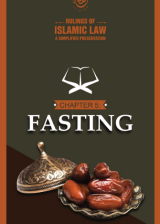 Linguistically speaking, fasting means abstention from something. In an Islamic context, it means intentional abstention from eating and drinking, as well as all that invalidates fasting, from the break of dawn until sunset with the intention of worshipping Allah.
This book, Rulings of Islamic Law: A Simplified Presentation is the first of a series which aims to provide Islamic knowledge covering all the areas of life in which a person needs authentic Islamic knowledge from validated sources.
Each worship has a quality and manner demonstrated by Allah or by His prophet peace be upon him. So the writer of this message said in the introduction: "This is a brief about the manner of praying of the prophet introduced to each Muslim to try hard to follow him for the saying of the prophet "Pray as you have seen me praying." narrated by Bukhari.
One of the most detailed books describing the rulings of Hajj, Umrah, and visiting the Masjid of the Prophet (peace be upon him).
A research paper discussing issues of Hajj & Umrah particular to women